Family Meal Roseville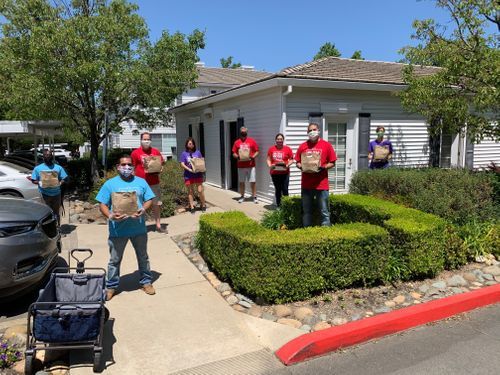 Family Meal Roseville believes that in times of need we are all family.
In response to the COVID-19 crisis, the City of Roseville collaborated with Sacramento's Family Meal program and decided to bring this initiative to the Roseville Community. Because of a longstanding partnership to improve health outcomes in Roseville's core neighborhoods, the City asked Health Education Council to collaborate on making this a reality. The purpose of this program is to provide meals for vulnerable community members while at the same time helping small businesses, local farmers and vendors in the region stay in business.
Grants from the City of Roseville, the Placer Community Foundation's COVID-19 Relief Fund, and Sutter Health are providing funding for community meals. Roseville Transit is providing meal delivery between restaurants and distribution sites, and Bayside Church provided 500 face coverings for volunteers and participants. Restaurant partners for the initial phase are Nixtaco , Randy Peters Catering and Monk's Cellar due to their interest in bringing the program to Roseville and their work in serving vulnerable communities through similar models.
Participating local restaurants prepare nutritious meal kits designed to feed a family of four. Because of generous donations, restaurants are reimbursed for their costs and families receives meals at no cost. Meal distribution takes place three times a week at low-income housing communities and Title-1 schools.
HEC is working closely with Mercy Housing, Project Go and the Roseville City School District to identify hungry families and isolated seniors in need. If you know a school or housing community that is facing food insecurity, please send us an email. 
---
You Can Help Feed Families!