Family Meal Roseville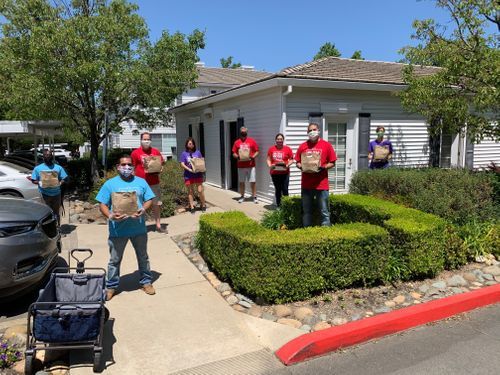 In response to the COVID-19 crisis, the City of Roseville collaborated with Sacramento's Family Meal program and decided to bring this initiative to the Roseville Community. Because of a longstanding partnership to improve health outcomes in Roseville's core neighborhoods, the City asked Health Education Council to collaborate on making this a reality. The purpose of this program was to provide meals for vulnerable community members while at the same time helping small businesses, local farmers and vendors in the region stay in business during the pandemic.
Grants from the City of Roseville, the Placer Community Foundation's COVID-19 Relief Fund, Sutter Health, the Roseville Rotary Club, Roseville Firefighters Association and community in-kind donations provided funding for community meals. Roseville Transit is providing meal delivery between restaurants and distribution sites, and Bayside Church provided 500 face coverings for volunteers and participants. Participating restaurant partners for this program included: Nixtaco , Randy Peters Catering, The Monk's Cellar, The Grand Porottas South Indian Cuisine, Bennett's Kitchen and The Place. 
Family Meal Roseville's participating local restaurants prepared nutritious meal kits designed to feed a family of four creating close to 16,000 meals for Roseville residents. Because of generous donations, restaurants are reimbursed for their costs and families received these meals at no cost. Meal distribution took place five times a week at low-income housing communities and Title-1 schools.
The Family Meal Program demonstrated the best of Roseville - our community coming together to support each other. Meal recipients expressed high satisfaction with the meal quality and indicated that the Family Meal Program helped meet their food needs. Although our emergency response has ended, the Family Meal Team is assessing the next steps and remains committed to fighting hunger in Roseville. If you are in need of food assistance or know someone who needs support please email us and we will provide you with information on additional local resources.
All in the Family (Comstock's Magazine)
Capital Region restaurants initiate meal delivery programs to help vulnerable populations. Find out more ››
---