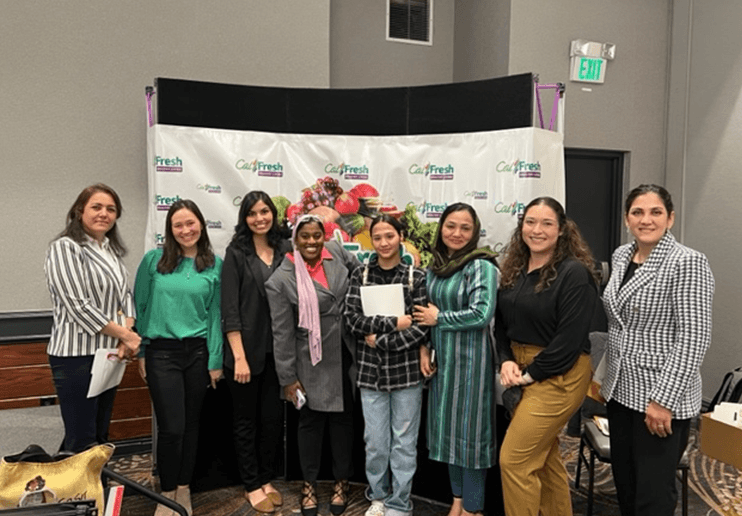 Through the parent groups established to support Afghan families in Twin Rivers Unified (TRUSD) and San Juan Unified (SJUSD) School Districts, HEC developed a strong rapport with many families. Mothers shared with our staff that due to dietary restrictions, their children didn't have adequate food options at school. Program Director Roxana Garcia Ochoa points to our proactive role in hiring a community member to coordinate workshops for the Afghan community during COVID-19 as the start of the connection being fostered.
What initially started as nutrition workshops in North Highlands and Carmichael transformed into a parent group that meets weekly with our team. Over time parents shared their experiences with school meals and challenges their children face in finding school foods which meet religious dietary guidelines. HEC administered 24 focus groups with parents, which have included taste-testings of halal food options.
"We're working with TRUSD to explore ways they can further incorporate regular halal items into school menus, creating equitable nutritional access for Muslim students during school meal times, said Hibatallah Eltahir, MPH HEC Program Administrator.
In the spring, Amine, an HEC Parent Advocate, and her daughter Fatima, spoke at the California Department of Public Health's Cal Fresh Healthy Living Director meeting. HEC and its Afghan family partners were invited to speak because of the authentic partnership that had been built.
For more information regarding our food access programming, contact Program Director Roxana Garcia-Ochoa at rgarciaochoa@healthedcouncil.org.