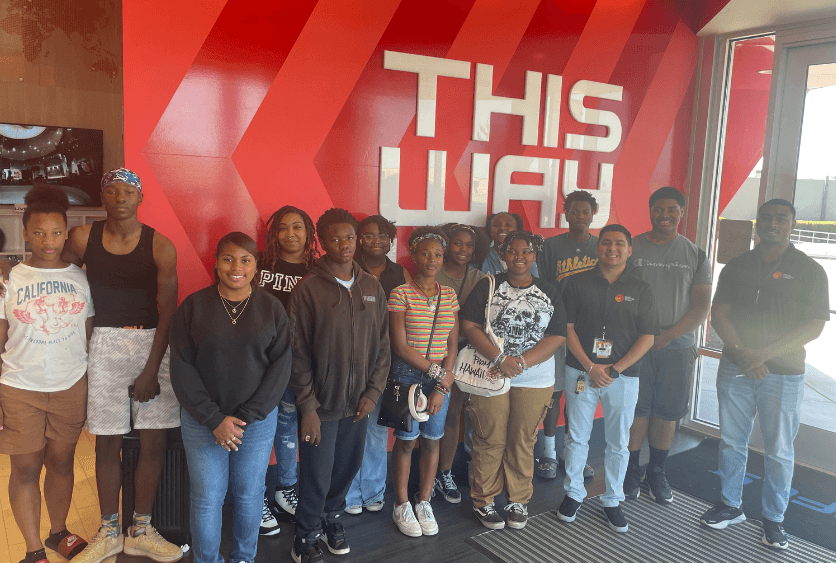 When you were in high school, do you remember going indoor skydiving? This summer 15 youth ages 14-18 participated in a Summer of Exposure, which included indoor skydiving, an Escape Room, a tour of State Capitol, and a boat cruise around Old Sacramento. The program culminated in a BBQ for youth and their families.
"Having worked with many of the youth through SHOP, we know their academic and extracurricular interests, so we planned outings that would be rewarding experiences for them" commented Community Health Leader Taejon King. The staff even found a way to sneak in a STEM lesson during the indoor skydiving by working with the students to calculate their velocity and a civics lesson during the capital tour, teaching students how bills are passed in the state legislature. Also part of the program were Ladies First sessions, where female participants focused on special topics like menstrual equity and advocacy. Following the discussions, the young women assembled period packing kits that were distributed to community members.
"The students hear a lot about what they can become, so we decided to bring them into new spaces that can make careers in STEM, government, and other fields that seem attainable" added Community Health Leader Edgar Yanez. Both King and Yanez agreed that they ultimately want the youth to be comfortable broadening their horizons and navigating in new settings with confidence.
Program Director Ramsey S. King added, "In communities where violence is prevalent, and the weight of life's challenges can seem unrelenting, initiatives like the power of exposure activities that the HEC staff facilitated throughout the summer, can serve as beacons of hope, healing, and positive alternatives to violence for youth. They create opportunities for individuals to envision lives outside of trauma, forging connections between youth and their community, while nurturing healthy peer engagement."